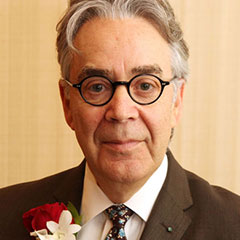 Howard Shore
Like the hundreds of movie scores that Canadian Howard Shore has composed, his Canada 150 theme captures the energy and emotion that has been our country's 150 years of nation building. Shore is one of today's most talented and respected composers. His music is performed in concert halls around the world and is heard in cinemas across the globe.
Shore's musical interpretation of J.R.R. Tolkien's imaginative world in the films of The Lord of the Rings and The Hobbit have enthralled people of all generations. This work stands as his most acclaimed composition to date awarding him with three Academy Awards, four Grammy Awards, two Golden Globes as well as numerous critics' and festival awards.
He is an Officier de l'ordre des Arts et des Lettres de la France and has also received the Governor General's Performing Arts Award in Canada. The National Board of Review of Motion Pictures honored Howard Shore with an award for Career Achievement for Music Composition and the City of Vienna bestowed him with the Max Steiner Award.
Shore was one of the creators of Saturday Night Live and served as musical director from 1975 – 1980. At the same time, he began scoring films including for filmmaker David Cronenberg works, including The Fly, Crash and Naked Lunch.
He earned Canadian Screen Awards for Maps to the Stars for score and Cosmopolis for both score and song; his original scores to A Dangerous Method, Eastern Promises and Dead Ringers were each honoured with a Genie Award.
In recent years, Shore has composed the music for four Martin Scorsese films, including The Aviator (for which he won his third Golden Globe Award) and Gangs of New York. His other noteworthy film scores include Ed Wood, The Silence of the Lambs, Philadelphia, and Mrs. Doubtfire. His most recently wrote the score for Tom McCarthy's Academy Award-winning Film Spotlight.